When it comes to social responsibility, businesses must acknowledge their duty to the people. We are at our core a Socially Responsible Investment, born of a belief that we can better the lives of our partners while enriching our investors.
One People, One Community, One World
Fair Trade Certification (2020)
Exclusive partnership with local Indigenous farming communities
Blending ancestral techniques with modern technologies
Building stability and infrastructure for future expansion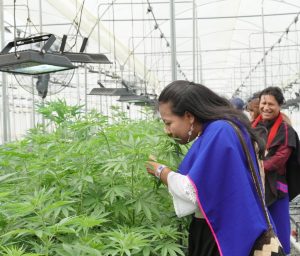 OWP has an exclusive agreement with the Colombian indigenous association of the Wala Popayan and the Misak people to collaborate on the production and purchase of medical cannabis. These communities also surround our farm in Popayan and provide security and labor.
Partnering with the local indigenous communities to participate in the cannabis industry helps create long term economic growth and financial independence.
One World Products is a driving force in creating a sustainable community which truly focuses on social responsibility and the environment at its core. With the support of Mrs. Liliana "Mama" Pechene (recipient of the 2018 Colombian Leadership Award), One World Products is committed to developing and maintaining relationships with the Colombian  indigenous communities and local farmers.
A leader and former governor in her indigenous Misak community, Pechene  negotiated on behalf of her people to work with One World Products to produce fields of hemp in Colombia ensuring the company simultaneously gives back to the community as part of their business model.
In this exclusive partnership, One World Products provides the seeds to grow the hemp, and buys back the raw material once it is ready for harvest. The Misak citizens work the farms and in the production facility, enabling them to strengthen their economic infrastructure. Above that, OWP also issued shares of the company to the Misak people, proof of investing in the community without whose land the company would not be able to operate so successfully. The company plans to help reverse the damages large scale and illegal operations have had in Colombia and beyond, all while helping indigenous communities reap the benefits as the industry grows.