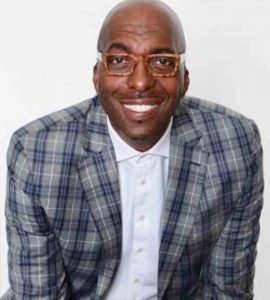 Most people can reach goals and be satisfied with their achievements; but to continually create new challenges to accomplish and to reinvent yourself is the mark of a versatile and motivated individual. It is the definition of father, athlete, actor, entrepreneur, talk show host, philanthropist, wellness advocate, vegan and champion: John Salley.
A proud native of Brooklyn, New York, John fell in love with basketball at an early age. He accepted a full basketball scholarship to Georgia Tech to play for legendary head coach Bobby Cremins. As the #11 selection in the 1986 NBA Draft, John played 15 years in the NBA and was the first player to win four championships with three different teams. During the 1980's, Salley was a member of the iconic Detroit Piston "Bad Boys" squad and afterwards joined Michael Jordan as part of the historic Bulls 1996 championship team. In 1999, Phil Jackson invited Salley to come to Los Angeles to provide experience and leadership to the 2000 Lakers championship team.
After his retirement from the NBA in 2000, Salley explored several opportunities in both television and film. John's film credits include Bad Boys; Eddie; Bad Boys II and Jerry Bruckheimer's Confession of a Shopaholic and just finished filming Disney's Sneakerella, to be released in late 2021.
John spent 7 years as the co-host of the Emmy nominated, critically acclaimed The Best Damn Sports Show Period on Fox Sports Net. Additionally, John has served as host for numerous award, episodic and talk shows including The John Salley Block Party on 100.3 The Beat Morning Show in Los Angeles; the sports talk show Ballers on BET; the Reunion Shows of VH-1's #1 rated show, Basketball Wives; and The Car Show, which aired on Speed Channel, with Adam Carolla. John is also the head of his own production company, John Salley Presents, Inc., where John uses his uncanny ability to find unique and interesting people and projects for television, film and Internet.
John is actively involved with Operation Smile, PETA and the fight against Diabetes. He was recently awarded PETA's highest honor at its 40th Anniversary Gala. In addition, John is involved with PCRM and visited Washington to address Congress about the Child Nutrition Act, asking all Representatives to support legislation that would increase vegetarian options in meals served in public schools.
John has adopted a plant-based (raw vegan) lifestyle and is a frequent speaker at VegFest's across the USA. As a Wellness Advocate, one of John's main missions in life is to educate adults and children on the benefits of living a healthier lifestyle through better eating habits, exercise and natural health products. With these passions, John is the Vice President of Business Development of TIDL Sport, a line of CBD-enhanced products designed for recovery in athletics which is one of The Anthos Group's cannabinoid-based brands. John has contributed articles to Wine Spectator, Cigar Aficionado and LA Confidential and is a frequent contributor to ESPN. You can follow John on Facebook John Salley, Instagram @johnsalley; Twitter @thejohnsalley and his website, www.johnsalley.com. John currently lives in Los Angeles with his wife and daughters.